Gentleman's Superior
Gentleman's Superior is specially formulated by Longrich as your personalized wellness partner, catering to men with low immunity and stamina concerns. It empowers you to embrace a brighter, more fulfilling future.
Unlock Your Fertility and Performance Potential with Longrich Gentleman's Superior.
Imagine a life filled with confidence, vitality, and passion. Longrich Gentleman's Superior is here to make that a reality.
This male fertility supplement offers incredible benefits to enhance your overall well-being and relationship.
Firstly, let's talk about sperm health. Gentleman's Superior is specially designed to boost sperm count and quality, increasing your chances of starting or expanding your family.
Next, experience peak performance as you bid farewell to fatigue and embrace boundless vitality with this powerful supplement.
Ignite passion and romance in your relationship as you feel confident and empowered in moments of intimacy with your partner.
Male virility.
Male Virility is not just about physical attributes but also about the emotional and mental aspects of being a man. It's about feeling strong, confident, and capable of building a fulfilling future together.
Fertility and Performance Potential
Unlock your fertility and performance potential with Longrich Gentleman's Superior. Experience the joy of a healthy relationship, increased sperm health, and a revitalized sense of confidence and energy. Trust this incredible supplement to be your key to a happier, healthier you.
Gentleman's Superior contains a blend of ingredients that may help to support stamina and sexual libido.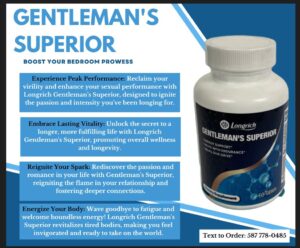 Gentleman's Superior Ingredients and their benefits are:
Tongkat Ali,
Tongkat Ali, also known as Eurycoma longifolia is a plant native to Southeast Asia that has been used for centuries as a natural remedy for various health conditions. Some potential benefits of Tongkat Ali include increased testosterone levels, improved sexual function, and reduced symptoms of stress and anxiety.
L-Arginine
L-Arginine is an amino acid that plays a role in the production of nitric oxide, a compound that helps to relax blood vessels and improve circulation. Some potential benefits of L-Arginine include improved exercise performance, reduced inflammation, and improved sexual function.
Vitamin B12
Vitamin B12 is a nutrient essential for the proper functioning of the brain and nervous system and the production of red blood cells. Some potential benefits of vitamin B12 include increased energy, improved mood, and a reduced risk of certain types of cancer.
Bioperine
Bioperine increases the bioavailability of certain nutrients as a patented form of black pepper extract. Bioperine's potential benefits include improved absorption of nutrients, increased thermogenesis, and reduced inflammation.
The benefits of these ingredients make Gentleman's Superior one of the best male enhancement supplements on the market.